Social Proof
Last week we began discussing the topic of your healthcare facility's Google reviews and how to leverage your satisfied patients to improve your online reputation. Google really has become our one-stop-shop for basically all information these days: directions to your co-worker's house, the grocery store's hours of operation, translation for your teenager's vernacular, and where you should schedule your annual physical exam. Back in the day, word-of-mouth (literally) was the most tried-and-true form of information transfer. The only difference today is the rate and quantity of accessible information thanks to the internet.
The question is, how significant is this readily available information to society? Studies show 91% of 18-34-year-olds trust online reviews as much as personal recommendations, and 93% of consumers say that online reviews influenced their purchase decisions. (1) Social proof is the most powerful marketing tool in today's world of consumerism. In her blog, Online Reviews Statistics to Know in 2021, Diana Kaemingk defines social proof as the level of credibility that the public provides to a service or product. (2) Furthermore, she writes, "The more people that use, or enjoy a product, the more likely others are to follow." This demonstrates two relative points worth noting in regards to your healthcare facility's Google reviews: 1) prospective patients are more likely to read online reviews, and 2) prospective patients trust online reviews now more than ever.
Ignorance Isn't Bliss
Whether you like it or not, your healthcare facility already has an online reputation. The unfortunate reality is that dissatisfied patients are more motivated to leave unprompted online reviews rather than satisfied patients. Furthermore, minimal reviews translate just as poorly as negative reviews to prospective patients. Unmanaged, or ignored online feedback can be detrimental to your business. Take these statistics into consideration:
3.3 is the minimum star rating of a business consumers would engage with and only 13% of consumers will consider using a business that has a 1 or 2-star rating.

94% say an online review has convinced them to avoid a business.

Four out of five consumers have changed their minds about a recommended purchase after reading negative online reviews.
Kaemingk goes on to note, "In fact, businesses risk losing as many as 22% of customers when just one negative article is found by users considering buying their product. If three negative articles pop up in a search query, the potential for lost customers increases to 59.2%." (2) Your online reputation is a powerful tool in either attracting prospective patients or propelling them.
Authenticity Matters
Patients are researching potential healthcare facilities before making decisions, and improving your online reputation can enable your facility to stand out above the competition. The good news is that patients are less likely to trust a business without any negative reviews at all. Justin Herring discusses the importance of the authenticity of reviews in his article, "7 Data-Backed Reasons to Ramp Up Google Business Reviews in 2021." He writes, "The perceived authenticity of the reviews is also an important factor. If consumers feel like the review is fake, bought, or has otherwise been "planted" there, this can affect their decision making." (3) The likelihood a healthcare facility will have all positive reviews is highly unlikely and reads as inauthentic to the prospective patient.
The goal is not to not obtain negative reviews. Rather, Herring explains the goal is to obtain mostly positive, recent reviews. He explains, "90% of consumers read 10 reviews or less before they feel they can trust a business… You want to make sure as many of those 1-10 reviews are positive. If most are negative, consumers will make a quick decision which will most likely lead to them researching your competitors. If most are positive, consumers will make a quick decision which will most likely end up in increased business and revenue." (3)
Consistency Matters
It's not enough to just be aware of your online reputation and to simply acquire mostly positive reviews. Prospective patients are looking for recent reviews and signs of consistent monitoring of reviews. Herring notes, "73% of consumers think reviews older than 3 months are no longer relevant." (3) This requires asking your patients often and consistently for their feedback. Furthermore, frequent monitoring of your reviews communicates that you care for and are engaged with your patients. This includes thanking patients for leaving a positive review, as well as responding to negative reviews in a respectful, timely manner. Consistently monitoring reviews and engaging with patients is beneficial in more than one way. According to this Centinal article, "Businesses with a high number of reviews get a visibility boost from Google because it shows they engage with their customers. The more you remain consistent in collecting reviews, the faster your business is pushed to the top of the search engine ranking results." (4)
How to Get Google Reviews
Herring's article highlights four key tips to acquiring Google reviews:
Offer excellent service.
This may be an obvious first step, but it's crucial in growing a positive online reputation. If your patients are largely satisfied with the healthcare you provide, they will be eager to leave glowing reviews when prompted. Consequently, when they are largely dissatisfied with their experience in your facility, they will be majorly motivated to reflect that in an online review.
Ask for reviews.
As previously mentioned, satisfied patients tend not to give unprompted feedback. Studies show most patients will leave feedback when asked and chances are likely you have a lot of satisfied patients out there. Herring puts it plainly, If

"you're providing a great service that provides more value than you receive from customers, you should feel 100% comfortable asking for 1 minute of their time to provide feedback on their experience."

(3)
Engage with people who have already left reviews.
Engaging with individual positive and negative reviews goes a long way in creating a positive online reputation. Herring writes,

"This shows people reading your reviews you care about people's experiences. This will increase the likelihood of them leaving a review (because they know you care about the feedback) and it will show people the service you provide is a top priority."

(3)
Make it dead simple to leave a review.
According to Herring, "[I]f you make it as easy as possible to leave a review, and you let people know the process is simple, you will convert as many of these would-be reviewers as possible."
MedicalGPS' M3-Patient Experience, coupled with M3-Advocate, makes leaving Google reviews easy for your patients, as well as places your practice in the perfect position to attract new patients and to shine a spotlight on the great care and service you provide by improving your online reputation.
I'll leave you with one last quote highlighting the significant impact of your Google reviews on prospective patients: "Since Google is the most trusted online search platform, having great Google reviews can influence customers, increase brand trust, and determine the quality of your goods and services for potential customers." (4)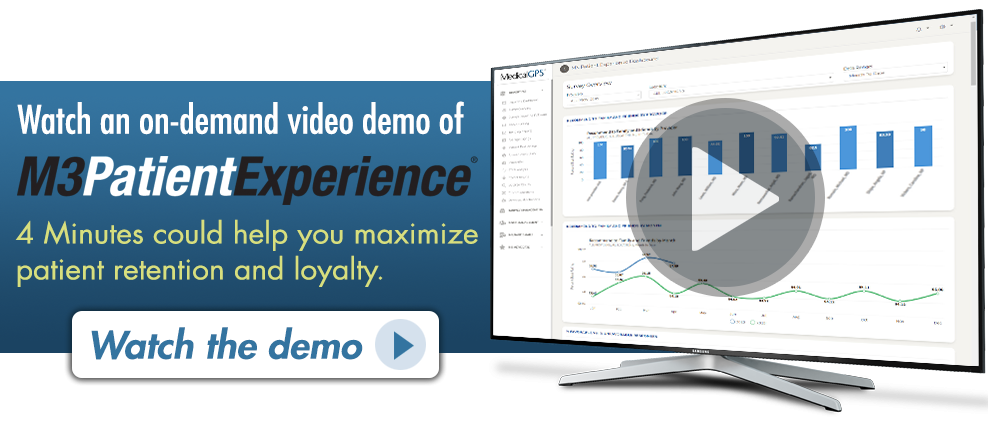 ---
Please let us know if you have comments or questions, and subscribe to our Email Updates so that you can be assured to receive Thinking Thursdays TIPs.
Thank you!
Jerry
Jerry L. Stone
Co-Founder/COO
MedicalGPS, LLC
---
Resources: