Online Reputation
What did we do before the internet? Seriously. Just yesterday I learned how to replace a damaged spindle, I refilled several prescriptions, I ordered groceries, I researched the pharmacy's hours of operation, and I shopped for a new pair of shoes without ever having to leave my house. What's the first thing you do before visiting a new restaurant or making an online purchase? If you're like me, you do your research and oftentimes, what you learn affects the decisions you make. As previously discussed, consumerism within healthcare isn't new news. Patients are most likely "doing their homework" before choosing a healthcare provider. This can be either scary or wonderful for your healthcare facility. Depending on your online reputation (you have one whether you're aware of it or not), you can either draw in prospective patients or repel them. Online patient feedback (even if negative) isn't something to be afraid of; instead, with the implementation of intentional strategy, it can be a very powerful tool in growing your practice.
New Home Page
When discussing the topic of online reputation, the first place to start is the first place your prospective consumers (aka: patients) start when "shopping for" a healthcare provider – Google. Patient Pop records in their blog, "The recent Whitespark report on SEO factors recalls a famous saying from expert Mike Blumenthal, that 'Google is your new home page,' in reference to how your business displays in Google search results." (1) It's the starting point for all prospective patients, even before your own website. In regards to building a positive online reputation, Patient Pop writes, "Google is once again where your efforts are best spent. Patients say they're more likely to rely on Google reviews, (72.9 percent of patients) even more often than those found on your website. Getting patients to share their feedback online is a top priority… To inspire this participation, consider implementing patient satisfaction surveys, which encourage your patients to start sharing their thoughts and opinions. PatientPop survey data tells us patients who have been asked for feedback are 50 percent more likely to proactively submit an online review."
According to Marilyn Blunderson's article, "Top 5 Patient Review Sites for Doctors," Google is, hands down, the most influential review site for doctors. She writes, "According to statcounter.com, 92% of online searches worldwide are performed using Google's search engine. I could go on and on about the value of Google…but the important thing to know is that you want to make sure you're using Google to its fullest to capture reviews." (2)
Ask Everyone
Your patients are likely already giving feedback regarding their healthcare experience whether you're aware of it or not. Unfortunately, dissatisfied patients are more likely to give unprompted feedback than satisfied patients. So if you aren't intentionally inviting all of your patients to provide their feedback, there is probably more negative feedback on the internet regarding your healthcare facility than positive. However, that can change. According to OhMD, "Having negative reviews should give you even more incentive to ask everyone. If you're focusing in on providing an excellent patient experience when you start asking everyone, the ratio of good to bad will change, and your star rating is likely to improve." (3) Chances are high you have a lot of highly satisfied patients that would love to give you a glowing review if simply asked.
Handling Negative Feedback
Furthermore, negative reviews can provide an opportunity to build trust and authenticity if handled correctly. According to OhMD's blog, seventy-five percent of businesses don't respond to their reviews. (3) That's a lot of missed opportunities! Just responding to feedback alone can enable your practice to stand out above the competition. OhMD also notes another staggering statistic: organizations that respond to reviews even twenty-five percent of the time generate an average of thirty-five percent more revenue. (3)
Creating Patient Advocates
MedicalGPS provides physician reputation management software as a service, allowing physician practices to increase social media reviews AND improve social media ratings. In fact, the vast majority of physicians utilizing M3-Advocate® find 90%+ of their social media reviews are 5-Star ratings after deploying M3-Advocate. In summary, M3-Advocate obtains continuous patient feedback from patients utilizing M3-Patient Experience®. As patients provide same-day or next-day feedback regarding their most recent office experience an analysis of the patient experience is performed using proven M3-Advocate algorithms, resulting in an Advocacy Quotient – a measure of the practice's level of patient loyalty. Through extensive research examining every aspect of the patient experience, MedicalGPS understands the key 'touch-points' of the patient experience that foster patient loyalty — loyalty at the highest level — advocate-loyalty. Patients that qualify as 'advocate-loyal' are identified, sent a warm expression of appreciation for choosing your practice as their healthcare provider, and invited to leave a review of their most recent office experience on Google and other social media sites.
Be Seen For Who You Are
I'll leave you with one last quote from Blunderson's article: "Your patients—and those 'interviewing' you online as they decide who to see for that broken ankle, or knee surgery, or root canal—deserve to see who you really are. And you deserve to be seen for who you are." (2) Don't let the one or two negative comments on the internet be the only thing prospective patients learn about your healthcare facility in their Google searches. Negative feedback is inevitable. However, responding appropriately and in a timely manner can build trust and authenticity regarding your online reputation. Intentionally prompting and inviting satisfied patients to provide their feedback will also help improve your online reputation, consequently leading to the growth of your healthcare facility.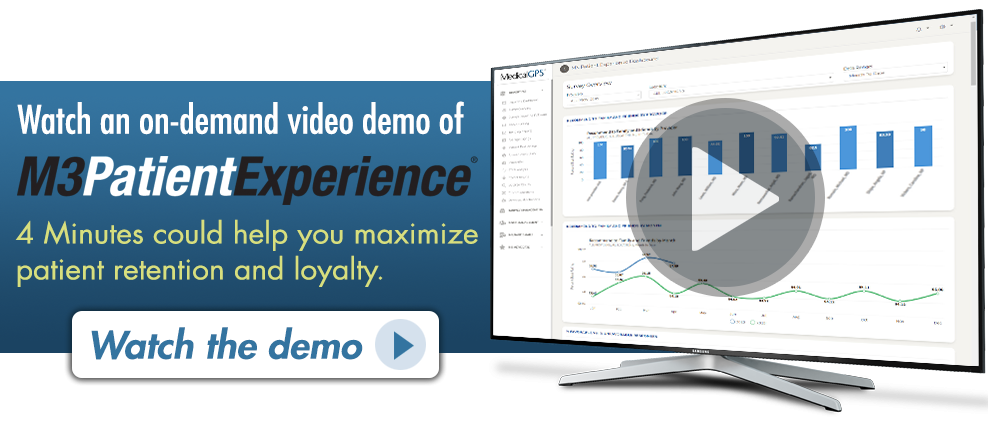 ---
Please let us know if you have comments or questions, and subscribe to our Email Updates so that you can be assured to receive Thinking Thursdays TIPs.
Thank you!
Jerry
Jerry L. Stone
Co-Founder/COO
MedicalGPS, LLC
---
Resources:
https://www.patientpop.com/blog/running-a-practice/patient-experience/giving-patients-what-they-want-in-2021-top-recommended-actions-for-healthcare-practices/