The Time is Ripe
Once upon a time, we had to intentionally "sign on" to the outside world from our homes. Remember the days of dial-up internet and phones that were connected to the wall? Now we have to take intentional measures and flex enormous amounts of self-control to silence the outside world from within our homes. The competition for our attention at every moment of the day is steep and any successful business is aware of this reality. In today's digitally saturated world, consumerism has seeped into almost every aspect of life, including healthcare. Who would have guessed in the year 2021 you could purchase a car and/or receive treatment for a sinus infection from your living room? Patients are more commonly "shopping around" for healthcare providers via the vast amount of available information accessible from the convenience of their homes. This reality presents a valuable opportunity for the world of healthcare. It states, "The time is ripe, therefore, for healthcare organizations to bring their customer experience into line with these digital innovations. It's time to embrace the future of patient feedback." (1)
Deeper Connections
Nowadays, customer-feedback surveys are handed out regularly: after grocery shopping, while using a certain app on your phone, after visiting the car wash, etc. In today's world of consumerism, customer feedback is very valuable. The unique advantage this carries within healthcare entities is that unlike most other areas of consumerism, patients are seeking relationships with healthcare providers. Becker's Hospital Review explains, "…[C]ustomers are ready for these deeper connections with their providers. They don't just want providers who will manage their illness or injury; they want organizations that can help them preserve their wellness, properly contextualize their health decisions, and offer them reliable information and guidance (especially in these trying times). Customers, in effect, are inviting providers into their lives." (1) This is a massive advantage the local grocery store, retailer, or car wash doesn't possess. Patients want to provide their feedback in hopes of fostering a relationship with their healthcare providers.
Meeting Patients Where They Are
Patients want to give their feedback, and typically relatively soon after their appointment and in a convenient manner. Gone are the days of over-the-phone or snail mail surveys. Knowing how your patients prefer to communicate is crucial. "73% of patients want to be asked for feedback within a few minutes to a few hours after they receive care." (2) "… research has found that patients overwhelmingly prefer to give their feedback shortly after the care encounter, and to do it digitally. […] shifting from paper-based surveys to digital delivery improved response rates among Millennials by as much as 22%." (1) Providing an opportunity for your patients to give their feedback in a timeframe and manner they prefer is crucial.
Service Recovery
Furthermore, navigating frustrated or upset patient feedback is also a crucial part of retaining patients in this digitally-inundated, consumer-driven world of healthcare. "Effective service recovery requires both keen sensitivity and operational precision. Tone matters, and so does timing. Most patients, in fact, consider their loyalty un-recoverable if a mistake goes uncorrected for just one week. To seize the service recovery opportunity, health organizations will need to achieve a quick cadence of experience-data analysis—both to rapidly identify service mistakes, and to build the capacity to respond to them effectively." (1) Providing an opportunity for patients to express frustrations in a timely and convenient manner increases the chance of achieving resolution and restoring trust. In addition, it decreases the risk of potential negative feedback making its way to more public platforms.
Dealing with Angry Patients
In addition, Megha provides some strategies to help deal with angry patients. Intercepting an angry patient early and in a way that leads to resolution can often eliminate any potential negative feedback.
Acknowledge and listen to the patient's complaints calmly.

Try to understand the root cause of the problem.

Avoid being defensive and respond with empathy.

Make the patients feel that their concerns are taken seriously.

Apologize and take quick action to settle the problem.

Communicate clearly about what you can do about the situation.
Happy Patients = Best Advocates
In conclusion, I'll leave you with one last quote from Megha's article: "It's more cost-effective to retain old patients than to get new patients. Returning patients will result in greater ROI and happy patients can be your best advocates. They will keep coming back to opt for your services and even recommend you to their friends and family. Apart from providing quality care, employ some of the best patient retention strategies to make your patients feel valued." (2) Healthcare facilities have a unique advantage in the world of consumerism in that patients are eager to provide their feedback out of a desire to foster a relationship with their healthcare providers.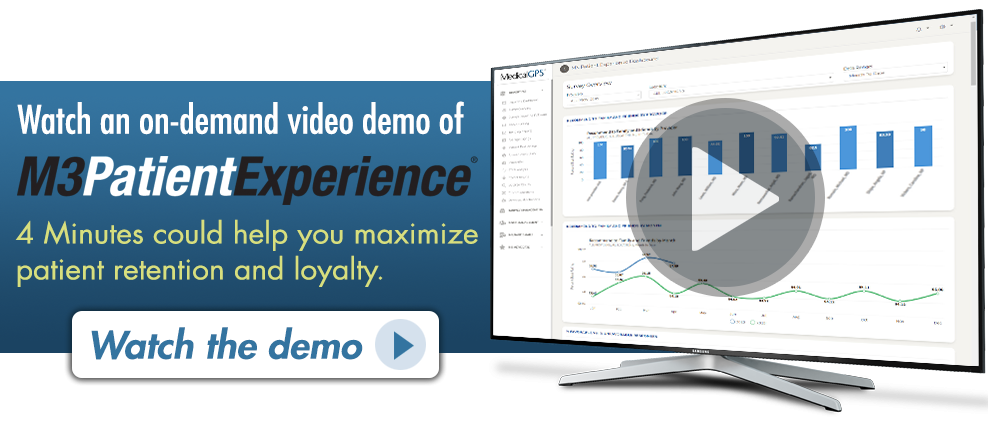 ---
Please let us know if you have comments or questions, and subscribe to our Email Updates so that you can be assured to receive Thinking Thursdays TIPs.
Thank you!
Jerry
Jerry L. Stone
Co-Founder/COO
MedicalGPS, LLC
---
Resources:
https://www.beckershospitalreview.com/patient-experience/the-future-of-patient-feedback-is-already-here-is-your-organization-ready-for-it-2.html