Tried and True
When I think about the tried-and-true relationships in my life, I find they all have exactly that in common – a period of trying that led to a deeper, more meaningful level of relationship. The bonds were tested under conflict or disagreement, and with intentionality and care for the relationship, we came out stronger on the other side. The dependability of a thing is only truly revealed once you shake it up a bit and give it a good off-road test drive, right? The principle rings true in many of life's facets, including the relationship you have with your patients. Strategically handling negative patient feedback can work to fortify the patient-provider relationship, serve as effective marketing for prospective patients, and ultimately result in improved patient retention and increased revenue.
Service Recovery Paradox
"Research over the years has shown that customers who have had a service failure resolved tend to be significantly more loyal than ones who have never faced a failure. We call it the service recovery paradox." (1) Although not specific to the world of healthcare, this blog navigates the topic of dissatisfied customers (aka: patients, in this context), from a unique perspective that can be helpful to all types of businesses. Author Harsh Vardhan illustrates the unique advantage that comes with negative feedback. He writes, "It's a situation where a customer starts to think highly of a company after it has managed to resolve their problem, compared to their impression of the company prior to experiencing the problem." (1) In essence, it's the power of good customer service. What's communicated to the patient when a healthcare facility properly handles negative feedback is invaluable to fortifying the relationship! Vardhan explains, "The company displays empathy for the customer by going an extra mile to satisfy them. They display a genuine desire to solve their problem. The customer begins to feel a sense of trust. They know that if something goes wrong, it will be fixed — the biggest assurance every customer needs." (1) Furthermore, this level of assurance could not be acquired if not for a point of dissatisfaction. There is great opportunity to be had from negative feedback if handled properly.
Really, Ignorance is NOT Bliss
The first step in implementing a service recovery strategy in a way that leads to patient assurance and loyalty is to be intentionally and consistently aware of your patients' feedback. As we've discussed in the prior weeks, your patients are undoubtedly "visiting" your healthcare facility (most commonly via Google), whether you're aware of it or not. This is often a huge missed opportunity for many healthcare facilities. What a prospective or current patient sees when a negative comment goes unaddressed or unnoticed is a lack of care on behalf of the healthcare facility. In contrast, genuine care and concern for the patient can be communicated with a simple, strategic response to negative comments.
"The risks and Potential Rewards of Negative Patient Reviews.[…]Taking the time to monitor and respond to patient feedback presents opportunities that others are not taking advantage of. In the patient perspective survey, 58.5 percent of patients said they did not receive a response from their provider after sharing critical feedback." (2) Here's a couple more statistics to really drive home the importance of responding to negative reviews:
Fifty-nine percent of patients who were contacted said they were satisfied.

When a provider or practice does not reach out to address negative feedback, patient satisfaction is at 3.6 percent. That unhappy patient remains an unhappy patient. They're practically immovable.
One more time, in case you missed it: that's a 59 percent vs. 3.6 percent patient satisfaction rate. (2) Ignoring negative reviews can be absolutely detrimental to your healthcare facility; however, taking advantage of the commonly missed opportunity to strategically respond to negative reviews can help your healthcare facility stand out against the competition.
Time is of the Essence
Furthermore, responding to negative reviews and/or online comments in a timely manner is crucial. "37.1 percent of patients said they'd be willing to switch doctors for one that provides a prompt response to questions or concerns." The word "prompt" is defined as one to two business days. (2)
"[T]he chances of success are higher in service recovery when it is done immediately after the patient has expressed distrust or unhappiness." (3)
"…research has found that, in the event of a service error, 84% of customers expect a resolution within two days." (4)
The key to providing quick responses to negative feedback is consistent monitoring. M3-Patient Experience, coupled with M3-Advocate immediately alerts you of negative reviews and/or feedback, allowing you to intercept the dissatisfied patient quickly before the fallout increases. Chances are likely if a dissatisfied patient is intercepted quickly, and concern to correct the issue is expressed on behalf of the healthcare facility, patient loyalty will be maintained, or even strengthened. This patient may even become your best cheerleader. "They can become a vocal supporter of your product. They can influence their own networks to try it. It's a well-known fact that word-of-mouth is probably the most effective marketing tool for your brand." (1)
Fill in the Blank Space
In conclusion, I'll leave you with a final quote from Patient Pop's article in regards to turning a blind eye to negative reviews, "For those providers, the negative reviews are there to be seen — followed by an empty silence from the practice. For people looking online to find out about a provider or care (74.5 percent of patients), that blank space denotes a lack of care, and has them looking for another 4- and 5-star provider." (2) Chances are high you care a great deal about the wellbeing of your patients and their feedback regarding your healthcare facility. Don't let a lack of awareness communicate a lack of concern for your patients. Implement strategies to monitor your patients' online feedback consistently, so as to intercept dissatisfied patients and convert them into happy, assured patients.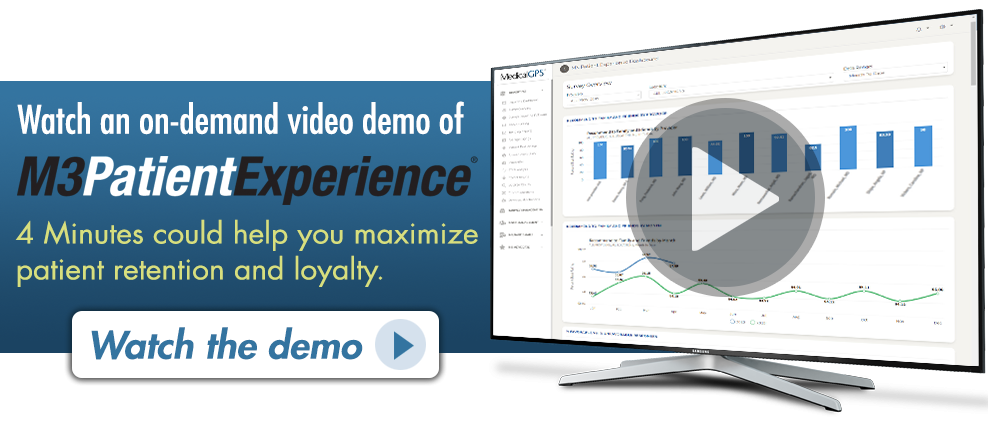 ---
Please let us know if you have comments or questions, and subscribe to our Email Updates so that you can be assured to receive Thinking Thursdays TIPs.
Thank you!
Jerry
Jerry L. Stone
Co-Founder/COO
MedicalGPS, LLC
---
Resources:
https://hiverhq.com/blog/service-recovery
https://www.patientpop.com/blog/online-reputation-reviews/the-risks-and-potential-rewards-of-negative-patient-reviews/
https://www.repugen.com/blog/address-negative-patient-reviews-improve-service-recovery
https://nrchealth.com/you-know-service-recovery-is-important-but-it-might-be-bigger-than-you-think/