Empathy and Compassion in Healthcare
Responding to the emotional needs of patients with empathy and compassion can be challenging, at best, and it takes much practice to get it right. The first step is to recognize that there is an emotional need, and then act accordingly based on each patient's unique circumstance.
For example, as part of consulting with a physician group, we talked about the need for support staff to role-play as part of the team's training. Role-playing allows individual team members the opportunity to hone their observation and interpersonal skills in a safe environment. We specifically talked about techniques to deescalate a stressful situation whenever patients were beginning to show signs of frustration. Having the ability to detect when patients are exhibiting early signs of frustration, stress, and anxiety — before the patient's emotional state escalates to full-blown anger — enables the team member the best opportunity to express empathy and compassion. First, knowing the patient has an emotional need is the key.
It's About Relationships
Whether it is due to a lack of time, or because care-team members are more focused on other tasks such as making diagnoses and determining the course of treatment, a missed opportunity to show compassion will diminish any relationship. Compassion and empathy is a critical component of the care-team-patient relationship and is associated with improved patient satisfaction. (1)
Below are three best practices to help establish a more empathetic approach to patient care.
1. Make it Personal
It's all about the relationship. Take the little bit of extra time it takes to get to know some personal details about each patient. Personal details unique to the patient matter when considering treatment options and are also valuable when expressing compassion and empathy. This best practice can be implemented by the entire care team — both support staff and providers.
2. Positive Gestures

Body language makes the difference. Expressing empathy and compassion include the use of nonverbal cues and positive gestures such as open body language, listening, making eye contact, taking notes, or repeating what a patient says to confirm understanding. A pleasant smile and other positive gestures demonstrate empathy and reaffirm that the patient is being listened to.
3. Ask for Feedback

Be quick to listen. Providing patients with an opportunity to share their thoughts is an important part of effective communication. When it's the patient's turn to talk, as the care-team member, using the adage of, "be slow to speak and quick to listen" works well. Asking open-ended questions such as "Tell me what YOU think?" or "How do YOU feel about that?" are effective ways to engage patients in open-ended discussions. Allowing patients to talk openly and candidly, without correction or interruption, demonstrates compassion. It's easy to determine how well your care team is providing empathetic patient care, simply ask your patients. The use of a real-time patient feedback system with built-in service recovery functionality has demonstrated improved, and sustained levels of patient loyalty.
Everyone's Responsibility
Empathy and compassionate care are the responsibility of the healthcare provider AND it is also the responsibility of every member of the care team. Patients spend a significant portion of their time interacting with the nurses, medical assistants, and receptionists. These interactions can provide many opportunities for demonstrating compassion and empathy toward patients. Therefore, training, encouraging, and ensuring support staff engages in compassionate, empathetic patient care will significantly influence a patient's overall experience.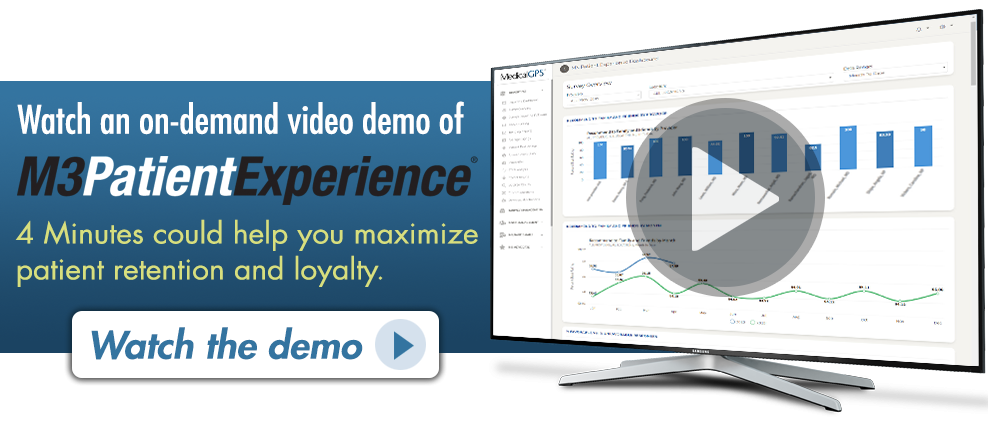 ---
Please let us know if you have comments or questions, and subscribe to our Email Updates so that you can be assured to receive Thinking Thursdays TIPs.
Thank you!
Jerry
Jerry L. Stone
Co-Founder/COO
MedicalGPS, LLC
---
Resources: