The Importance of Service Recovery Cannot Be Overstated
In today's deeply consumer-driven healthcare sector, following up with patients is not only critical to compliance and outcomes, it is becoming the key factor in both retaining and building stronger, healthier patient relationships. When patients indicate that their expectations were not met, a quick follow-up phone call to the patient will increase the likelihood that the patient will remain loyal to the practice. Failure to do so will open the door for the patient to look elsewhere for their healthcare.
Even overwhelmingly positive patient encounters benefit greatly from even an automated "Thank-You" email or text message. These follow-up touches build loyalty and foster a deeper personal relationship between your patients and your care team. With telehealth and remote diagnoses rapidly becoming a larger percentage of patient experiences, good aftercare communication is essential to successful treatment and patient loyalty. (1)
I've been in healthcare for enough decades to know that follow-ups can be difficult to properly execute and manage. The need to invoke meaningful patient feedback and follow-ups were key drivers in the development of M3-Patient Experience®. If your healthcare organization is one of the thousands of practices that subscribe to M3, you and your team have perhaps the most powerful service recovery tool available on the market today. It's not just my opinion. Mark Smith, the Director of Population Health Management for Riverview Health recently had this to say:
"Riverview Health needed a way to hear from our patients on a continuous, real-time basis. The on-going patient feedback we receive via M3-Patient Experience furthers our care-teams' efforts to provide the very best in compassionate, patient-centered care to everyone in our community that chooses Riverview Heath. Because Riverview Health continually promotes a progressive, nurturing environment, we have found M3-Patient Experience fits us well — allowing us to stay better attuned to the needs of each patient, with the overall aim of helping our patients and their families have a great clinic experience. We are very pleased with the product and services, and especially grateful for MGPS' willingness to meet our unique reporting needs – we couldn't be happier."
Failing to follow up with patients can lead to significant legal dangers for medical practices and healthcare organizations.(2) As medical reimbursement is more closely tied to quality and outcomes, patient follow-up is essential and must not be overlooked. Overlooking, or taking a casual attitude toward service recovery will cost medical practices and healthcare organizations significantly.
A recent study found that patients who receive a follow-up after they are discharged spend significantly longer out of the hospital than patients who received no follow-up.
According to another study, as it relates to patients having been prescribed a new medication, touching base with patients after discharge reduces risk and improves safety:
86% were aware that they had been prescribed new medications.
Fewer could identify the name (64%) or number (74%) of their new medications or their dosages (56%), the schedule to take them (68%), or the purpose of the prescription (64%).
Only 22% could name at least one adverse effect.
Only 11% could recall being told of any adverse effects.
Below are practical, best practices, that you may find beneficial.
Implement some or all of the techniques listed, if you haven't already, to ensure effective follow-up happens at your physician practice:

Ensure staff is trained to handle test results and referrals and put protocols in place for any discrepancies.
Communicate test results and instruct patients to contact the office if they have not received them by a certain date.
Mail letters to patients who do not follow up and cannot be reached by EHR message, email, or phone. File this documentation in the medical record.
Utilize the test-tracking capability through electronic health records.
Ensure all results of tests, consults and referrals were reviewed and recorded.
Document all advice in the patient's record and include the patient's level of understanding during the informed consent process.
Make sure a licensed health professional responds when a patient's question is outside the scope of office staff knowledge.
Conduct a standard follow-up call within a specified time after each patient visit.
After the visit, send an email or text message that thanks the patient and provides a secure link for real-time feedback.
Send email or text reminders regarding the patient's next appointment.
Create an email, newsletter, or blog including information on improving health and answering common health questions. Include any relevant medical office information or changes.
Have office staff contact new patients to see if they were pleased with their first appointment, answer any questions, and welcome the patient to the practice.
I wouldn't be serving any of you very well if I didn't take one more opportunity to tell you how easy it is to facilitate patient follow-ups and service recovery with M3-Patient Experience. If you're not a subscriber, I invite you to contact us for a no-pressure demo, discussion, or just to share your service recovery pain points. If you are a MedicalGPS client, then you likely share the sentiment of this testimonial from one of our largest physician groups:
"The service recovery feature that MedicalGPS has developed as part of M3-Patient Experience allows our practice managers to reach out to our patients, in near-real-time, immediately after the visit, whenever a service failure occurs. I have never seen, nor do I know of a system available on the market today that even comes close to M3-Patient Experience."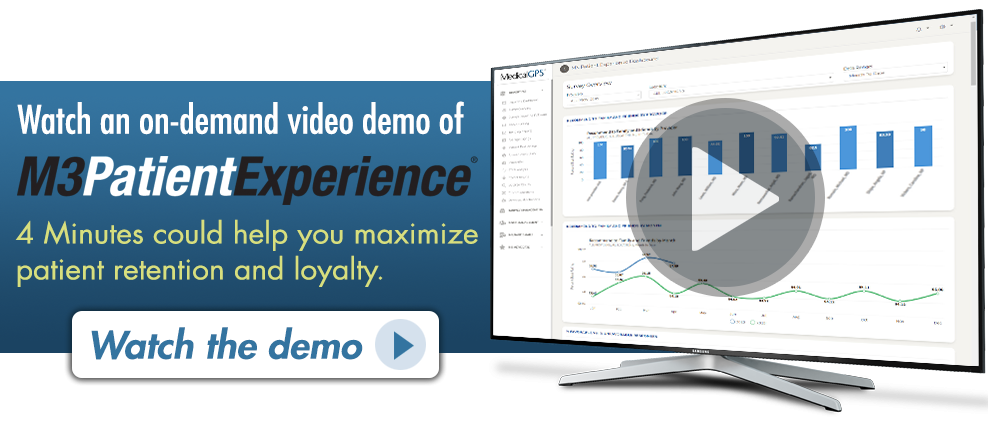 ---
Please let us know if you have comments or questions, and subscribe to our Email Updates, so that you can be assured to receive Thinking Thursdays TIPs and other articles from our blog.
Thank you!
Jerry
---
RESOURCES
https://www.mckinsey.com/industries/healthcare-systems-and-services/our-insights/telehealth-a-quarter-trillion-dollar-post-covid-19-reality
https://www.standardsofcare.org/medical-malpractice/types/failure-follow-care/