In today's healthcare environment, patient experience is more important than ever. Low patient satisfaction doesn't just hurt a practice's reputation, it directly affects the bottom line. Care teams that are able to create exceptional patient experiences while delivering quality care will not only stay competitive; they will consistently win the loyalty and business of patients.
The following are eight best practices that office staff can implement to help create an exceptional patient experience:
Start with a Good First Impression
A patient's first impression rarely starts with the provider. It is typically over the phone, or when they first arrive at the office and are greeted by staff members. What are the first impressions patients have of your practice? Are staff members welcoming and friendly? Is the office clean, inviting, and up to date? Are there current reading materials, health-related programming, and wifi access to help entertain patients while they wait? Consider how your practice can help exceed your patient's needs.
Make Access and Scheduling Easy
No one wants to sit on the phone for 20 minutes trying to schedule an appointment, much less leave a message and wait 24 hours for a returned call. Simply making it easy for patients to schedule appointments online is key. Providing patients the ability to pay bills, request prescription refills, and access records through a modern and intuitive online portal can be an enormous benefit to a practice and its patients.
Create a Friendly Environment
The friendliness of the office staff can have one of the greatest effects on a positive patient experience. Something as simple as a smile and warm reception can go a long way in making a difference in your patient's experience. By starting the visit with a pleasant and welcoming environment, healthcare providers can immediately improve their chances of positive patient reviews and online ratings. The office staff is a reflection of the provider and the practice, which is why it is essential that the team is supported, equipped, and well-trained.
Keep Wait Times Minimal
No one likes to wait. In fact, it is one of the top grievances by patients about their doctors. Primary care and telemedicine wait times in the US are about 20 minutes on average, but many patients find their wait to be much longer. Finding ways to ease the wait experience will help reduce complaints and improve patient satisfaction. Keeping patients informed and occupied, apologizing when necessary, communicating wait times with patients, and checking on patients frequently can help minimize frustration. It is also important not to assume a patient can wait. If the provider is late, make sure the staff asks the patient if they are able to wait.
Make it Personal
"Making it personal" is about making the patient feel like they're valued, respected, and cared for. Knowing specific details about your patients is important because it makes them feel special. Be sure to utilize the per-patient notes and details functionality that your EHR system provides. Whether it's a staff member remembering a birthday, a special occasion, a hobby, children's or spouse's names, personal details enhance the patient experience.
Don't Forget the Follow-up
The patient experience does not end once the patient has left the building. Exceptional patient care involves ongoing communication. Failing to follow up with patients can lead to significant legal dangers for medical practices and healthcare organizations. Reach out to patients after their visit to keep open lines of communication. This will help improve the quality of care, increase patient satisfaction, build long-term relationships, assist service recovery, and keep patients coming back.
Stay in Contact
Today, there are many tools that can help practices stay in contact with their patients via practice management systems, email, SMS, and social media. A great way to keep in touch with patients while providing value with a practice newsletter that keeps patients up to date with practice changes and healthful tips.
Ask for Patient Feedback
One of the most important ways to create an exceptional experience is by measuring it. Giving patients the opportunity to provide real-time feedback, not only makes them feel valued, it provides the practice with an enormous amount of valuable data. Patient feedback surveys can help a practice compare and analyze patient experiences which can be used to evaluate the effectiveness of improvement initiatives. Most importantly, they can be used to help set higher standards for quality, patient satisfaction, and loyalty within a practice, while supporting a culture of patient-centered care.
What is M3-Patient Experience® and how can it help assist in creating an exceptional patient experience?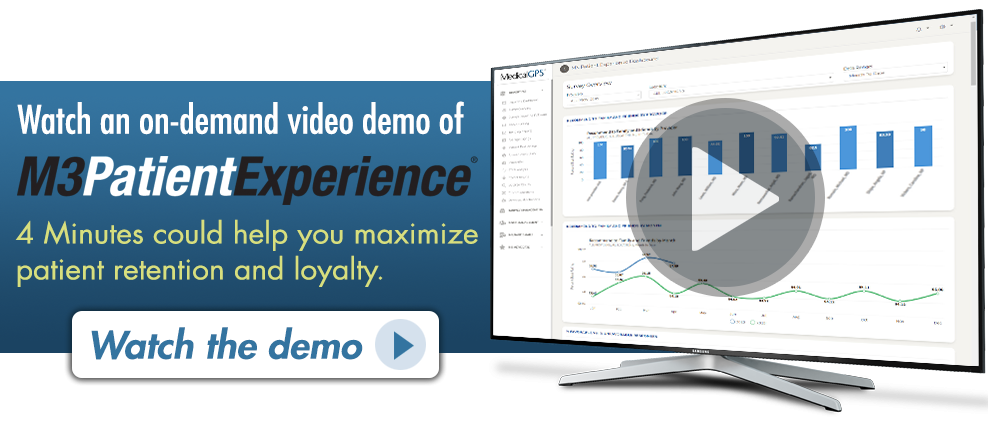 ---
Please let us know if you have comments or questions, and subscribe to our Email Updates so that you can be assured to receive Thinking Thursdays TIPs.
Thank you!
Jerry
Jerry L. Stone
Co-Founder/COO
MedicalGPS, LLC