When your primary goal is to improve and better market your practice, most experts place substantial value on commanding your online patient review scores. Public star ratings and reviews are certainly important for attracting patients, but too many practices have started to rely on them as the primary vehicle for patient feedback. This direction may promise a quick bump in business, yet is fraught with long-term consequences for both your practice and your patients.
A Wonderful Magical Solution?
Gaining positive online reviews seems like a wonderful magical solution to improve any practice. If satisfied patients say nice things about the facility and quality of care, other patients will see those ratings and want to experience the same care, and the practice will benefit. Straightforward, right? It's easy to see how such a simple concept becomes a major focus of performance-oriented medical offices. The problem is that it simply doesn't work for most operations because they neglect the patient experience and internal feedback process that turns care into quality care, patients into patient advocates, and 'if's into 'when's.
Internal Feedback is Best
Patient feedback should be the guiding force for the growth and betterment of your practice. Internally asking patients for their opinions during and immediately after an encounter generates honest actionable feedback from fresh memories in an environment that is trusted by both sides. Adjusting and adapting your practice to the needs and wants of your community will organically pay long-term dividends in third-party patient review scores and more.
Effectively Collecting Patient Feedback
Start by identifying the aspects of your facility and care process that relate to both your encounters and your organization. You can't expect valuable feedback to come from a broad question like "How was your visit today?" any more than you can expect pertinent information to come from a generic online survey template. A deliberate level of guidance and intention is essential. Make a plan to determine parts of the patient experience that could be improved or validated. 
Some of the most actionable questions from M3-Patient Experience include:
When I checked in, the receptionist was courteous and friendly. (select range of agreement)

During THIS visit, please estimate your total time waiting. (select time range)

My provider answered my questions and explained my treatment. (select range of agreement)

How likely is it that you would recommend [practice name] to a friend or colleague? (select range)
It doesn't take much imagination to envision how useful real-time answers to just these few questions could be to any healthcare facility. A positive answer on any one of these can naturally prime a patient to leave a positive online review.  A negative response gives your team time to recover a potential service failure before a negative online review is published. 
All of this is just vapor if you can't effectively gather thoughts and opinions from your patients. Use the methods below to determine the best processes of feedback collection and data management that best fit your facility. 
Live chat on your practice website
Most consumers and healthcare patients are quite used to instant communication. Medical offices can leverage this trend by providing a live chat option on the practice's website. Beyond the ability to capture patient feedback in real-time, live chat provides a very convenient method of communication with your practice. The downside of this immediate interaction capability is that someone capable must be readily able to respond to these patient touches. Neglecting any channel of seemingly available communication can do more harm than it ever had the potential for good.
Third-party live chat products can range in cost from free (tawk.to) with limited functionality to costly and full-featured (livechat.com). Almost all are easily integrated into your website by a qualified webmaster. Every service we've seen keeps conversation logs that can be later processed and categorized into useful feedback.
Leverage your website's contact form
Your website's contact form can similarly be used to collect broad responses about your healthcare facility. Be sure to include verbiage on your site's contact page that lets patients know they are welcome to submit open-form feedback in this manner. Even though your contact form is the least targeted method of receiving patient feedback, you're likely to be pleasantly surprised by the detailed and positive feedback you receive.
Just ask the patient
Unsurprisingly, the most personal interaction you can have with a patient is in person. Depending on your patient-provider relationship and level of trust, a candid in-person request for feedback can be supremely honest and valuable. Unfortunately, this method rarely works if the patient isn't completely comfortable being truthful about both positive and negative aspects of your practice. If this method fits your personality and style of caregiving, be selective about the patients you ask for in-person feedback. Be sure to thank the patient for their opinion, especially if it identified a perceived issue, and follow up when you have a solution or plan of action. 
Social Media
While online reviews and social media comments should never form the foundation of your actionable feedback, they are a great supplement to any of the methods we've already mentioned. These reviews and comments can often be sensationalized or fueled by emotion, but still offer a window into your patient base that you won't find elsewhere. When reading online third-party patient reviews, do your best to filter the noise and pay attention to patterns that relate to your facility and the care it provides. The result will help you confirm feedback indicators from other sources and make adjustments where needed. In forums that allow responses, it's exceptionally important to follow up on positive feedback or with solutions and corrective efforts you deploy. 
Email patients after the encounter
Small practices should consider emailing patients soon after their visit. Using a pre-written email subject and message that can be quickly customized to the patient takes little time and can be a valuable feedback collection tool. A personalized email is often appreciated even if it doesn't garner a response. To increase your chances of a relevant response, keep your message pleasant, but short and to the point, with no more than three well-described questions about their visit.
Set up a spreadsheet or database to organize your email feedback into actionable buckets. Over time, this will be an invaluable tool to monitor progress and continue improvements and recognition.
Deploy a patient feedback survey
All of the methods mentioned so far are excellent ways to collect and manage patient feedback, but to be truly effective they may require more manpower than your facility can spare. Deploying a credible third-party patient experience survey like M3-Patient Experience can be a low-cost solution without compromises. 
By securely harvesting and transferring data from your EHR software, M3-Patient Experience can automatically text and email your patients a survey that is customized to your practice,  which will seamlessly gather feedback right after the patient encounter. Advanced reporting, analysis, trending, and benchmarking deliver actionable data from collected feedback, allowing you to focus on managing and improving your practice.
Listen and improve
Regardless of how you collect, manage, and act on internal patient feedback, doing so will empower your practice's decision-makers to drive positive change. When you listen to your patients and make business decisions based on their feedback, all healthcare stakeholders win. We encourage you to reach out to us about your practice improvement and feedback needs. We're happy to share our expertise and point you in the right direction, even if it's not toward one of our products.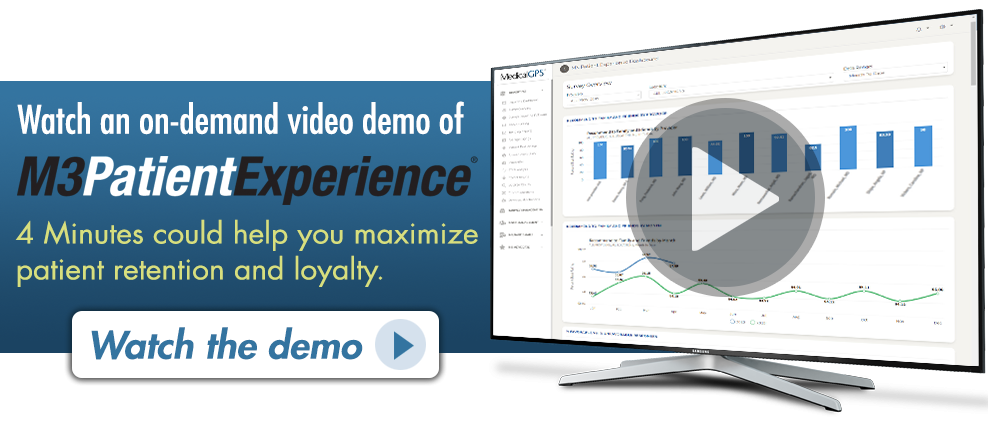 ---
Please let us know if you have comments or questions, and subscribe to our Email Updates so that you can be assured to receive Thinking Thursdays TIPs.
Thank you!
Jerry
Jerry L. Stone
Co-Founder/COO
MedicalGPS, LLC