Negative survey scores and unfavorable patient feedback present an opportunity that cannot be found in any other circumstance. 
When talking about the opportunity represented by negative survey scores and unfavorable patient feedback, a common response I often hear is, "What are you talking about, Jerry, I thought we wanted to avoid negative survey scores and unfavorable patient feedback".  
Regardless of how stellar an organization may be, negative patient feedback is inevitable.  Patients that take the time and effort to provide "negative" feedback represent a real opportunity – an opportunity to grow patient loyalty, even beyond what it would have been before the service failure occurred.
Author Harsh Vardhan mentions the unique advantage that comes with negative feedback. He writes, "Research over the years has shown that customers who have had a service failure resolved tend to be significantly more loyal than ones who have never faced a failure. We call it the service recovery paradox." (1)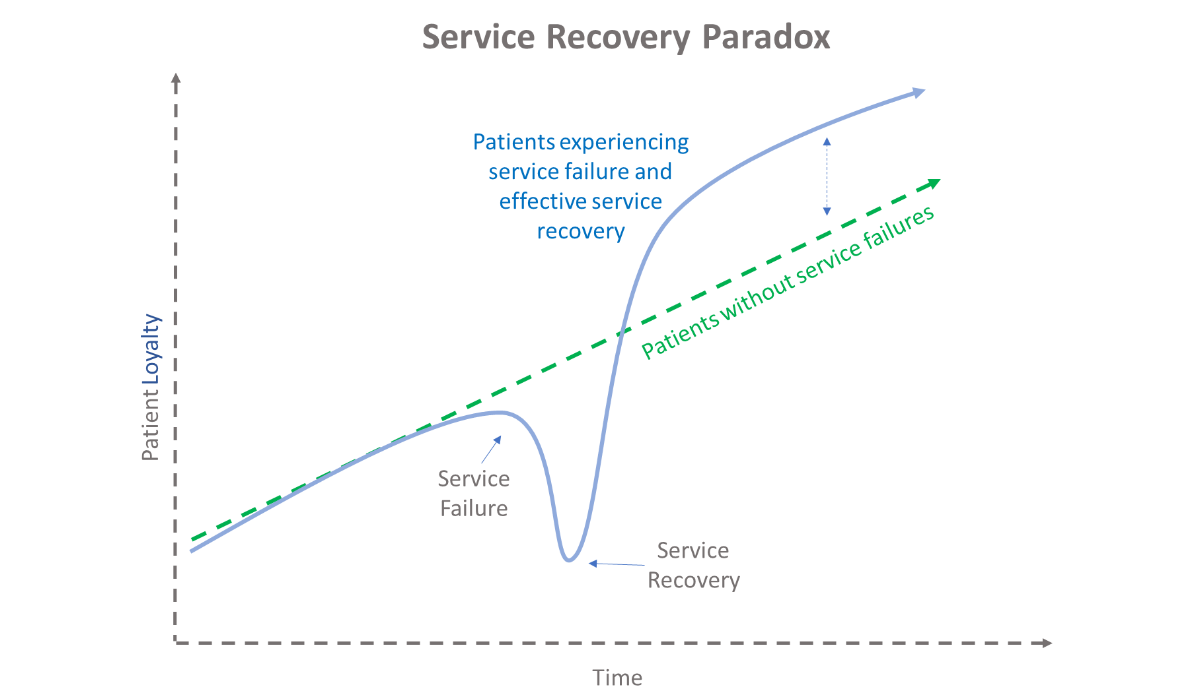 The 'average' physician practice will often see 2% to 4% of their patients as having unfavorable office experiences. 
For example, MedicalGPS sampled feedback from 72,501 patients, spread across 164 out-patient physician offices and found 2,336 of those patients had a less-than-favorable experience.  Our findings are based on NPS ratings (Net Promoter Score), whereby each of the 72,501 patients were asked to rate their provider experience from 0 to 10, as presented below.
Of the 72,501 respondents, 2,336 provided a score of six (6) or less.  Those 2,336 patients represent 3.2% of the total.
How can your organization make better use of the Service Recovery Paradox? One way is to partner with an expert customer service improvement company like MedicalGPS, LLC.   At the core MedicalGPS' toolset is M3-Patient Experience®.  What makes M3-Patient Experience especially powerful is M3's follow-up monitoring/service recovery feature, which allows healthcare organizations to perform service recovery immediately following the patient's experience.  
With more than 25 years of healthcare experience, MedicalGPS brings an array of tools, talent, and technologies to healthcare organizations, allowing those organizations to obtain real results.  By placing an easy-to-use service recovery tool in the hands of front-line managers, service recovery is performed immediately following the patient's visit, resulting in increased patient loyalty.
As tangible evidence, MedicalGPS has case study after case study whereby healthcare organizations have deployed M3-Patient Experience.  After deploying M3-Patient Experience, coupled with implementing MedicalGPS' service improvement techniques, MedicalGPS clients see measurable, real-world results.  Those same M3 clients often enjoy operational improvements related to; patient wait times, message turnaround times, acute access, receptionist helpful and receptionist courteous scores, recommend to family and friend scores, and NPS (Net Promoter Score) ratings.
How and when front-line managers handle negative patient feedback is invaluable to strengthening the provider-patient relationship.
It's simple yet often hard to harness — it's the power of great customer service. 
Vardhan goes on to explain, "The company displays empathy for the customer by going an extra mile to satisfy them. They display a genuine desire to solve their problem. The customer begins to feel a sense of trust. They know that if something goes wrong, it will be fixed — the biggest assurance every customer needs." (1) 
The paradox is, this new, higher level of patient loyalty could not be obtained except for the rare, yet inevitable, service failure followed by effective service recovery. There is great opportunity to be gained from negative patient feedback when handled properly.
Rewards and Risks
The first step in implementing an effective service recovery strategy is to gather patient feedback, continuously. MedicalGPS recommends all patients have an opportunity to provide feedback after every visit, or at least every 30 days for patients who frequent the practice more than once a month.  
While the rewards of performing service recovery are real, so too are the risks of asking for patient feedback and then not following up with unhappy patients.  If a negative patient comment goes unaddressed, or unnoticed, the patient takes that lack of response as 'proof' that the care team does not care for or respect the patient.  In contrast, genuine care and concern can be communicated with a simple, strategic response, timed soon after the patient expressed their displeasure.  Empathy and compassion are key.
Chances are likely if a dissatisfied patient is intercepted quickly, and concern to correct the issue is expressed on behalf of the healthcare team, patient loyalty will be maintained, or even strengthened as is demonstrated by the service recovery paradox.  
Using effective service recovery, an unhappy patient can be transformed into an advocate for the practice.
"They [the patient] can become a vocal supporter of your product. They can influence their own networks to try it. It's a well-known fact that word-of-mouth is probably the most effective marketing tool for your brand." (1)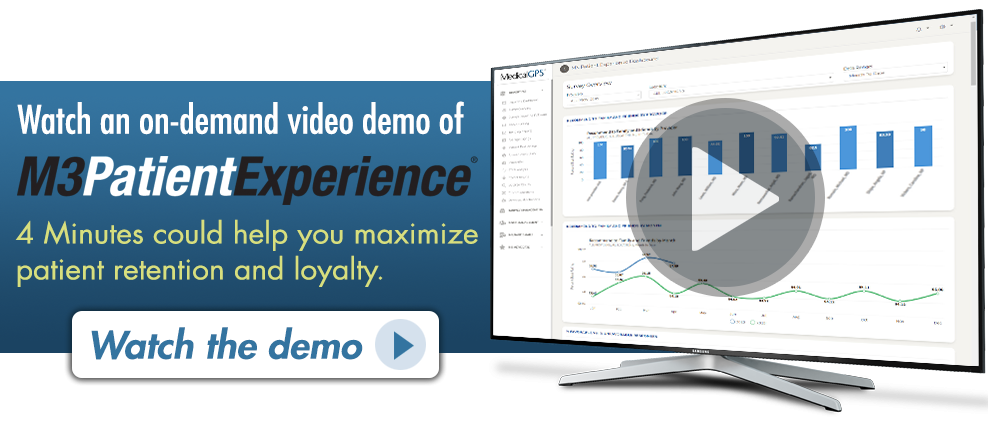 ---
Please let us know if you have comments or questions, and subscribe to our Email Updates so that you can be assured to receive Thinking Thursdays TIPs.
Thank you!
Jerry
Jerry L. Stone
Co-Founder/COO
MedicalGPS, LLC
---
Resources
https://hiverhq.com/blog/service-recovery