Last week we began our expectations for 2021 by initially characterizing the new kind of patient directly affected by the COVID-19 pandemic. In case you missed it, feel free to catch up here. In a nutshell: the rising rates of financial stress due to the pandemic are largely affecting the way patients utilize healthcare now.
This week, I'd like to continue looking at the modern-day, mid-pandemic patient. We'll specifically explore how the wide variety of available health information has directly affected the patient-provider relationship.
A Concerning Shift
Anyone else having a hard time deciphering where the line between medicine and politics starts and stops these days? It should be pretty easy, but with the current political climate around the presidential election, plus the addition of a global pandemic, the recipe produces mass confusion and chaos. In her national address on COVID-19, AMA President Patrice A. Harris, MD states, "We live in a time when misinformation, falsehoods and outright lies spread like viruses online, through social media and even -at times- in the media-at -large. We have witnessed a concerning shift over the last several decades where policy decisions seem to be driven by ideology and politics instead of facts and evidence." (1)
Infodemic
While access to the Internet at the tip of our fingers can be a very helpful tool in this day and age, it can also be quite damaging. Regarding the abundance of available information, the World Health Organization writes, "An infodemic is an over abundance of information both online and offline. It includes deliberate attempts to disseminate wrong information to undermine the public health response and advance alternative agendas of groups or individuals. Mis- and disinformation can be harmful to people's physical and mental health; increase stigmatization; threaten precious health gains; and lead to poor observance of public health measures, thus reducing their effectiveness and endangering countries' ability to stop the pandemic." (2)
There's no shortage of catchy headlines out there and consequently, many people are being duped into thinking the social and news media they're reading, hearing, and/or watching, is the most accurate news. What's even more disturbing – people are intentionally creating mis- and/or disinformation with ulterior motives, often driven by political opinion.
Take a look at these numbers published by the Pan American Health Organization, "According to a study by the Center for Health Informatics at the University of Illinois, in the month of March [2020] around 550 million tweets included the terms coronavirus, corona virus, covid19, covid-19, covid_19, or pandemic." (3) Readers of those tweets then often receive that information as factual and continue to spread the disinformation. The article reminds its readers that there is no quality control on what's published and that anyone can write or publish anything. In the section titled, "Why can the Infodemic make the pandemic worse?", the first reason listed states, "Makes it hard for people, decision makers, and health workers to find trustworthy sources and reliable guidance when they need it. Sources may be apps, scientific organizations, websites, blogs, 'influencers,' and more." (3) The mass amount of contradictory information available makes it difficult for patients to trust their healthcare providers.
Rising Rate of Distrust
Author Pan Pylas with Associated Press weighs in on the topic of the Infodemic and writes, "In an annual assessment on the state of trust in institutions, the firm found that this 'infodemic' is breeding mistrust that could make longer the path out from the pandemic." (4) The same can be applied to healthcare facilities. The modern-day patient is over-informed, confused, and skeptical (at best) of their healthcare providers.
In his article, "Trust in Health Care in the Time of COVID-19," author David W. Baker, MD, MPH writes, "In a 1966 survey of adults in the US, 73% said they had great confidence in the leaders of the medical profession; but in a 2012 survey, only 34% said this." (5) He goes on to explain this growing mistrust is only enhanced by the pandemic and the Infodemic, "The coronavirus disease (COVID-19) pandemic has created new threats to trust…[T]he preexisting distrust in science was exacerbated by conflicting messages, questionable treatments reported in research publications, concerns about political interference in public health recommendations and decisions regarding the efficacy of therapeutics, and pseudoscience and conspiracy theories. In addition, Black and Latino communities faced inadequate testing, financial barriers to care, and disproportionately high rates of COVID-19 cases and deaths, further threatening their trust in physicians, the health care system, public health, and science." (5)
Flatten the Infodemic Curve
World Health Organization published an article titled, "Let's Flatten the Infodemic Curve," and lists some very practical steps on how to help identity mis- and/or disinformation: (6)
Assess the source.
Even if a trusted friend or family member shared information with you, vet their source. Check for fake social media accounts, check a website's "About Us" or "Contact Us" pages, and always verify authenticity for images and/or videos.
Go beyond headlines.
Headlines are designed to attract clicks. Be sure to read the entire story.
Identify the author.
A simple Google search can inform you if an author is real or fake, credible or deceptive.
Check the date.
Ask yourself if the information is relevant and up-to-date.
Examine the supporting evidence.
Verify if the information is supported with quotes, surveys, and other credible facts.
Check your biases.
We all have biases. Ask yourself why you were drawn to this information and if it challenges your particular assumptions. Does it tell you what you want to hear?
Turn to fact-checkers.
Find a reliable fact-checking source and use it if in doubt.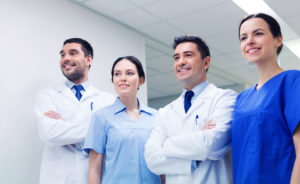 Next Week
As healthcare providers, you play a major role in guiding your patients through these confusing times. I encourage you to implement the steps listed above when doing your own research and practice medicine with humility and honesty. Next week we'll dive more into the significant role of the physician and the unique opportunity you have to maintain and/or establish trust between you and your patients.
---
Please let us know if you have comments or questions, and subscribe to our Email Updates, so that you can be assured to receive Thinking Thursdays TIPs.
Thank you!
Jerry
Jerry L. Stone
Co-Founder/COO
MedicalGPS, LLC
---
Resources: