Patient Feedback: Ultimately Important
There's nothing more frustrating than having a bad experience with a large, seemingly monopolistic entity, knowing that any feedback you might provide is utterly worthless in improving customer treatment. Regardless of how many times you passionately express to a robot on the phone or online chat, "I'd like to speak to a representative," you're repeatedly directed through a maze of automated responses. If you're lucky enough to actually speak to an actual person, you're often met with a cooked response of: "I'm sorry, that's just the policy."
Isn't it refreshing, however, to be asked for your honest feedback after you've spent your hard-earned money somewhere? Just the other day, I picked up my groceries using a pick-up order app. After promptly and conveniently receiving my groceries, the store employee handed me a small piece of paper with his name and a website on it. He kindly asked if I would take the time to provide my feedback regarding my experience that day via the survey on their website. I was delighted to do so! From the customer's perspective, the solicitation for my feedback communicated their prioritization of the consumer's optimal experience. It reassured me that the company valued my feedback as a tool to improve upon their customer service.
Why should healthcare be any different?
Shift to Partnership
The shift towards patients primarily paying for their healthcare birthed the movement of healthcare consumerism and is only growing in momentum. Sara Heath writes in "Breaking Down the Basics of Healthcare Consumerism," "Because patients are paying higher out-of-pocket healthcare costs, they are looking for a healthcare experience that mirrors those they have in other service sectors. Healthcare consumers are demanding healthcare experiences that are as frictionless as those in the hospitality, airline, or ecommerce industries." (1) Savannah Adams expounds regarding the shift in healthcare consumerism in her blog, "What is Consumerism in Healthcare?" She writes, "When it comes to healthcare, consumerism specifically refers to patient involvement in their own healthcare decisions. For providers, this shift can be tricky as it ditches the old model where patients simply listen and follow a doctor's instructions. Now, patients and providers are working in a partnership to make care decisions together. In this newer model, both opinions from patients and providers are heard and considered when making treatment plans." (2) No doubt about it, healthcare consumerism is on the rise, and healthcare facilities all over the world are prioritizing partnering with patients.
Not Negative, But Positive:
In her article, "Healthcare Consumerism Rises With Emphasis on Patient Experience," Hannah Nelson quotes Jean-Pierre Stephan, managing director of Accenture Health, and writes, "'Our research clearly shows that the patient experience matters now more than ever,' said Jean-Pierre Stephan, managing director of Accenture Health. 'This should be interpreted as positive news because it means the future is in the hands of healthcare providers to embrace change and provide better healthcare experiences.'" (3) The topic of healthcare consumerism can be touchy for many healthcare professionals, but I challenge them to shift their perspectives. Positive patient experience, leading to patient retention and revenue, is in large a controllable variable. The challenge, then, lies in knowing what your patients are experiencing when they visit your healthcare facility and then implementing that knowledge by making changes that lead to an improved patient experience.
Patients are Seeking Information
Regarding the current culture of healthcare consumerism, Bret Schiller states, "Today's environment has pushed consumers to find the most cost-effective care and seek out information about providers, physicians, payment plans and options." (4) Your patients and potential future patients are seeking out information regarding your healthcare facility. The question is: do you know what information is out there regarding your healthcare facilities? The goal is not to control what information is out there, but to have knowledge of that information and respond accordingly.
Ask Them
A great way to know what your patients are experiencing at your facility (and consequently probably communicating to others), is to ask them! Provide a space and/or opportunity for them to vent, critique, encourage, challenge, suggest, discourage, recommend, etc. any information they have regarding their experience at your healthcare facility. This enables you to then receive that patient feedback and make changes resulting in not only improved patient experience, but also positive available information encouraging potential future patients towards your facility. In her previously referenced blog, Nelson summarizes Accenture's report regarding healthcare consumerism as "[T]his most recent report suggested that providers stay informed on consumer needs by monitoring local and national social channels. Listening in on consumers' perceptions allows up-to-date insights on patient experience, giving providers the opportunity to quickly address these preferences and make positive operational changes." (3)
Real-Time Measurement
Sara Heath concludes, "Finally, organizations should consider patient and consumer experience, foremost beginning by measuring it. Thirty-four percent of organization leaders told Kaufman Hall they have real-time patient experience measurement tools, while 38 percent said they offer these on a limited basis." (1) MedicalGPS offers a real-time patient experience measurement tool that can help your healthcare facility to stay informed, enabling you to align patient expectation and patient experience. M3-Patient Experience continuously monitors, measures, and assists front-line leadership and maximizes patient retention and loyalty. M3's service-recovery functionality equips front-line managers with timely, actionable patient feedback, allowing them to create and sustain a culture of service excellence. It works in four simple steps:
Patients take the practice's M3 survey from their computer or compatible mobile device.
M3 technology transforms the results, sends applicable alerts, and provides real-time reporting.
Practice leadership receives email alerts and access M3 reporting 24/7.
Practice managers are delivered actionable information and execute an immediate positive change.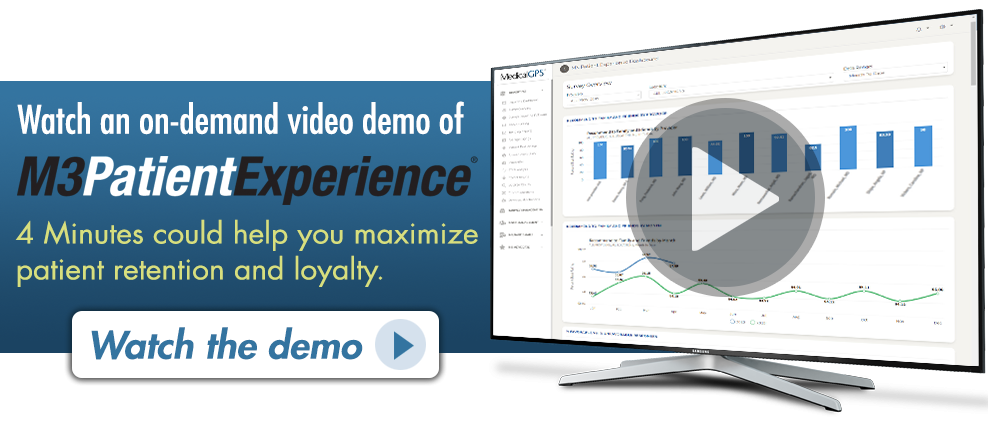 ---
Please let us know if you have comments or questions, and subscribe to our Email Updates so that you can be assured to receive Thinking Thursdays TIPs.
Thank you!
Jerry
Jerry L. Stone
Co-Founder/COO
MedicalGPS, LLC
---
Resources: