COVID-19: Turn the Ship Around!
Like the rest of the world, when the COVID-19 pandemic was materializing, I cancelled all non-emergent checkups for my family and steered-clear of healthcare facilities for quite some time. My youngest son with Cerebral Palsy receives occupational, physical, speech, and feeding therapy for several hours a week, as well his regularly scheduled check-ups with two different neurologists, an ophthalmologist, and his pediatrician. All of this was put on hold. As you can imagine, I was extremely anxious for my son to receive the weekly therapies he so desperately needed without putting him in harm's way. Recognizing the need to act quickly, the clinic where he receives his therapies called me and explained they were offering "tele-therapy." I then got on the phone with my insurance company to inquire if they would cover such a thing. Again, they acted quickly to shift some things around (as most insurance companies probably did), and assured me they would cover it. Fast forward a month, his quarterly appointment to check-in with his neurologist rolled around. This appointment was also through telemedicine. She assessed his progress and refilled his prescriptions as needed. Telemedicine and tele-therapy wasn't my preferred method, but it worked for the time and kept all those involved safe from being exposed. After all, I kept an open mind as I felt compassion for those in the medical world having to make major changes quickly.
Since then, my son has returned to the clinic for his weekly therapies with a great deal of safety protocols in place. Screening, mask-wearing, additional sanitizing, and reducing the amount of people in the clinic were all measures taken to improve safety. Over the last seven months, they have absolutely streamlined the process to be safe and effective for my son and the staff. He has also returned to his checkups with his team of doctors. The experience looks slightly different depending on the healthcare facility, but each of his different doctor's offices have developed efficient and safe methods for him to receive the care he needs. 2020 definitely has been a year of history making as so many of us have taken a front-row seat to watching the medical field "turn the ship around" and make some major changes.
A Seamless, Integrated Experience
Despite the immense pressure on healthcare practices to quickly adapt, the pandemic seems to have only increased consumerism culture within the world of medicine. According to Hero Digital's report from just last month, "[O]nly about half of patients reported feeling loyal to their current provider, with individuals who have relocated or changed jobs being more likely to switch. The pressures of money loss, reemployment, moving, and health concerns are motivating people to find new providers. This transition uncovers a potential audience of about 25 million who will be searching for a provider who can give them a seamless, integrated experience." (1) Regardless of the pressure, the patient's demands on healthcare are higher than ever.
Pandemic Waiting Room
One facet of healthcare that has noticeably changed due to COVID-19 is the waiting room. As my son and I jumped around from his different doctors' offices, I could not help but notice the drastic changes. The idea of sitting for half an hour in a crowded room with potentially sick children all playing with the same toys sends chills down my spine now. This was already a point of contention for patients pre-pandemic. The list of demands has only increased, leaving healthcare practices with quite the difficult task at hand. At the top of the complaint list is time spent waiting for a scheduled appointment. "Thirty percent of surveyed patients have already walked out of an appointment because of a long wait and 20% have changed doctors due to wait times," according to a Vitals report. (2)
Regarding the affects COVID-19 has had on the culture of waiting room, Author Rita Ruben, MA writes in her article published by JAMA Network, "The COVID-19 pandemic has forced practices to take the wait out of waiting rooms, as physicians struggle to see as many patients as possible while maintaining social distancing in their offices." (3)
Ugenthiri Naiker (researcher from Queensland University of Technology) explains that long wait times are a reflection a fragmented health system. In their piece published last August, The Medical Futurist quotes Naiker: "This will continue to be a part of a patient's experience as long as there continues to be wastage (inappropriate treatment), inefficiencies (operational) and misalignment (supply versus demand) of services." (4)
So how can healthcare facilities make improvements to better accommodate patients while waiting for their appointments that promote both safety and efficiency?
Long-term Changes
Many healthcare practices are redesigning their waiting rooms, or opting to skip out on them all together by having patients wait in their cars. Certainly, telemedicine is a relevant option, too. I've experienced all scenarios recently and I have been pleasantly surprised at the convenience, efficiency, and safety of all of them. In an article published by CompHealth on June 26th of this year, Gary L. Roth, DO, MBA, FACOS, and Chief Medical Officer for the Michigan Health and Hospital Association explains that healthcare administrators need to think about larger, more long-term, infrastructure changes to their waiting rooms. (5) The waiting room of 2019 and prior is nothing shy of archaic and reckless now.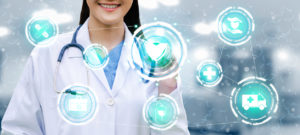 Change for the Better
In that same CompHealth article, author Alisa Tank highlights a few changes healthcare practices can implement that will increase safety and efficiency for the patient and staff. (5)
1. Moving pre-appointment paperwork online.
She first explains that all necessary patient information such as medical history insurance information, and contact information can be received electronically, prior to the visit. This would decrease the amount of time a patient spends in the waiting room as well as person-to-person contact.
2. Redesigning the waiting room experience.
Tank briefly discusses the various options of socially-distanced waiting rooms including partitioned chairs, checking in electronically from the patient's vehicle, or bypassing the waiting room completely through the use of telemedicine.
3. Increasing the use of telemedicine.
Tank notes that a whopping seventy-six percent of patients say they're likely to use telemedicine in the future. However, she writes, "there are still some challenges to improving patient flow in the virtual realm." If a patient is forced to wait for an extended period of time, it's much easier to ditch the appointment with a click of a button. Accessibility is also an added challenge with the use of telemedicine, especially within rural areas.
4. Rethinking team-based care.
Tank highlights effective case management and the use of electronic health records to enable multiple physicians to treat one patient. This is especially helpful these days when many physicians are working less in an effort to cut down on face-to-face interactions.
5. Focusing on patient communication.
Tank stresses the importance of communicating with the patient regarding any changes being made within your healthcare practice. Letting patients know what they can expect during their visit prior to their appointment is crucial.
Patient Confidence and Safety
Tank sums it up nicely by writing, "Improving patient flow is one way to restore patient confidence while keeping providers safe at the same time. While some changes may only be temporary, others could be worth adopting permanently, especially if they provide additional benefits to your patients, staff, and facility." (4) Safety and efficiency are high on the patient's priority list these days. While the pandemic caused a nearly impossible task of redirecting the entire healthcare "ship" at a moment's notice, many of the changes made were for the long-term benefit of both the patient and the provider.
---
Please let us know if you have comments or questions, and subscribe to our Email Updates, so that you can be assured to receive Thinking Thursdays TIPs.
Thank you!
Jerry
Jerry L. Stone
Co-Founder/COO
MedicalGPS, LLC.
---
Resources:
1.https://herodigital.com/wp-content/uploads/2020/09/Healthcare-Research_Loyalty-Index_v-2-2.pdf
2.https://www.cardiovascularbusiness.com/topics/practice-management/report-20-patients-have-changed-doctors-because-long-wait-times
3.https://jamanetwork.com/journals/jama/fullarticle/2767633
4.https://medicalfuturist.com/can-we-eliminate-waiting-times-from-healthcare-forever/