Below are several descriptions of Patient Engagement.  As you read over these descriptions, check out the highlighted action words that reveal a common theme.  This common theme may be considered the main goal of an effective patient engagement program. 
"Patient engagement involves

encouraging

patients to make informed decisions about their own health." (1)

"Patient engagement is a strategy that

enables

and

encourages

patients to be more

active in managing

their health." (2)

"Patient engagement can be defined by patients' access to information, their

participation

in healthcare decisions, and their

involvement

in healthcare organizations' policymaking. Engaged patients must

communicate

their health situation to providers, as well as their 'values, beliefs, and risk tolerance regarding care choices.'" (3)

"The desire and capability to

actively choose to participate

in care in a way uniquely appropriate to the individual,

in cooperation

with a healthcare provider or institution for the purposes of maximizing outcomes or experiences of care." (4)
"As the disparity between patient portal availability and adoption has taught us, usability is the key to driving active patient engagement in digital tools. But for patients, what makes a digital care management platform usable has more to do with content personalization and care continuity than the simplicity of its user interface." (5)
As value-based care continues to be a primary driver of healthcare transformation, including reimbursement, healthcare providers — meaning hospitals and physicians — are paid more based on patient health outcomes and less based on production, i.e., surgical procedure volumes, number of patient visits, and RVUs (relative value units).  Because of this shift to value-based care, critical to the survival of every healthcare organization is how well the organization can embrace, deploy, and successfully navigate patient engagement.  Without an effective patient engagement strategy health outcomes will diminish, ultimately resulting in the decline of the underperforming organization's financial stability.
"Multiple domestic and international studies have shown that higher patient engagement leads to better health outcomes. The opposite is also true. In fact, according to one study, less engaged patients are three times as likely to have unmet medical needs and twice as likely to delay medical care." (1)
Following are seven (7) deadly sins to avoid when fostering patient engagement. Failure to avoid these sins could mean the death of the healthcare organization.  Worse furthermore, failure to engage patients means a decrease in health outcomes, including an increase in mortality rates.  
Sin #1: Restrict or Limit Access to Care – In today's consumer-driven healthcare environment patients are seeking fast, efficient, convenient care. The explosion of walk-in clinics and urgent care facilities over the last several years speaks volumes to the consequence of NOT having open access. To the extent your practice can empower front-line support staff to accommodate same-day acute patient appointment requests, your practice will avoid the deadly sin of lack of acute access.   Collaborate with your physicians to increase acute access and avoid the deadly sin that so many practices are guilty of – having patients wait until 'tomorrow' for the care they desire today.
Sin #2: Treat all Patients the Same – Patients have unique goals and preferences that can be integrated into their care plan. Consider adopting strategies such as the teach-back method (6) and shared-decision-making to encourage patients to become active members of their care team.
Sin #3: Exclude Family Members in the Patient's Care – Family and/or close friends are a great, if not an essential resource of patient support and care coordination. Include a member of the patient's family (or a close friend) during office visits and invite the family member to play the role of patient-advocate as part of the patient's care team. Patient and family-centered care play a vital role in improving health outcomes.
Sin #4: Stay with Traditional Communication Techniques – As technology rapidly progresses and continues to systemically permeate the full spectrum of healthcare delivery, patient communication methods such as; smart-phone Apps, online patient portals, secure e-mail and/or texting, and online video calls are becoming preferred methods by many patients. Utilizing a patient portal, already available to most patients, improves office efficiency, increases patient satisfaction, and empowers patients to become more actively engaged in their health and wellness.
Sin #5: Underestimate the Team-based Approach– A patient's interactions with medical staff can be just as important as the physician-patient relationship. Assigning specific staff members to each provider will help ensure patients become familiar and comfortable with staff. Some patients may even feel more at ease asking questions to the nurse or medical assistant. Always encourage staff to provide an enabling and supportive environment.
Sin #6: Discount or Ignore Patient Feedback- Research has for decades demonstrated the potential of utilizing patient feedback to improve patient safety, patient satisfaction, and increasing patient loyalty. With the advent of the internet, inviting patients to provide real-time feedback immediately following their office visit provides useful insights that can help improve office workflow, foster high levels of customer service, and maximize patient loyalty and retention on an ongoing basis. Utilizing patient feedback to effect positive change is MedicalGPS' specialty. If you would like to learn more, click here to visit MedicalGPS.
Sin #7: Get Comfortable with the Status Quo – Regardless of how stellar your healthcare organization currently performs; it is essential that every organization strive toward continuous quality improvement. If your practice does not already have an ongoing, continuous quality improvement program in place, consider deploying MedicalGPS' Endeavor for Excellence. MedicalGPS' Endeavor for Excellence service improvement program (E4E) is delivered via a series of live online webinars, personally led by founders of MedicalGPS, LLC, designed to aid local physician practice leadership with implementing 21 E4E Best Practices.
"Health systems and plans miss opportunities to elicit information about people's lives that could help them understand why they don't come in for vaccines or cancer screenings; what it's like to live day in, day out with a chronic condition; and what support people may need to stay healthy. Not only could such feedback inform providers' strategies for reducing health disparities, but it also could help patients recognize the role they play in their own health." (7)
Patients must take an active role in their healthcare if high-level outcomes are to be achieved. 
When patients are engaged, they are more compliant and health outcomes increase.   Meeting the patient where they are — regardless of their level of knowledge, skillsets, desire, or resources — and then bringing the patient along so that they have what they need to play the vital role that only they can play, is the key.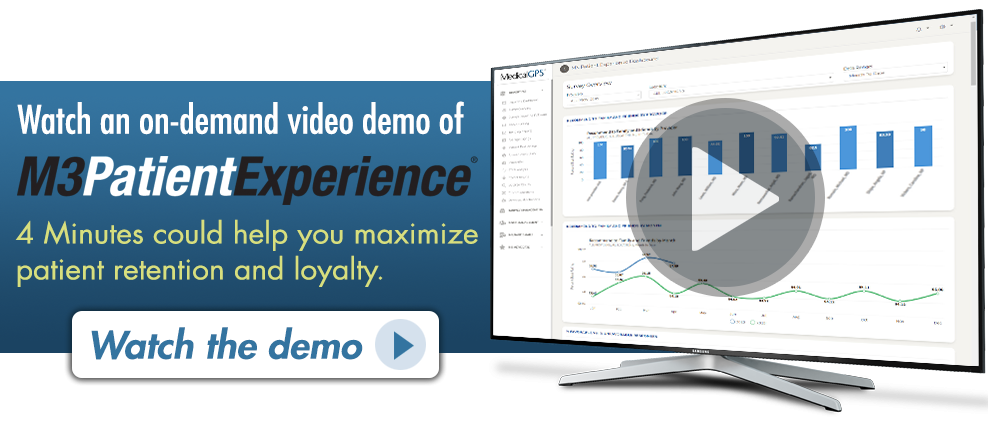 ---
Please let us know if you have comments or questions, and subscribe to our Email Updates so that you can be assured to receive Thinking Thursdays TIPs.
Thank you!
Jerry
Jerry L. Stone
Co-Founder/COO
MedicalGPS, LLC
---
References:
https://www.mercuryhealthcare.com/faq/what-is-patient-engagement
https://www.j2interactive.com/blog/patient-engagement-technology/
https://emma-assets.s3.amazonaws.com/3mtab/17b5e0f9649acf950cfc06893f68ed32/A_Strategic_Framework_for_Improving_the_Patient.6__4_.pdf
https://www.pomelohealth.ca/blog/patient-experience-vs-patient-engagement
https://medcitynews.com/2021/10/personalizing-digital-care-management-how-dynamic-care-paths-drive-patient-engagement-and-support-better-outcomes/
https://www.ahrq.gov/health-literacy/professional-training/shared-decision/tool/resource-6.html
https://www.commonwealthfund.org/publications/2021/apr/beyond-survey-engaging-patients-and-communities-partners