Creating a culture of service excellence within a physician practice happens one patient at a time, which means, this highly sought-after culture can be achieved and sustained by any practice willing to stay focused and put forth consistent effort.  
Amazing Results
As your patients experience compassionate care they will recommend your practice to family and friends and sing praises about their office visit on social media sites like Google.   Your patients become practice-advocates and help grow the practice.
Last week we talked about the importance of receptionists making a great first impression.  The reality is every member of your team has the same opportunity, and responsibility, to make a great first impression.   Patients welcomed with a warm, genuine smile at each point of contact will take the patient's visit to the next level — from ordinary to extraordinary.
A study including more than 16 thousand patients was conducted and concluded that all key touchpoints during the patient's office visit have the potential to make or break the patient's perception of their experience.  (1) 
The bottom line is your office staff can make the difference. Even when the provider is doing all the right things, if office staff are rude or disrespectful, patient satisfaction decreases. (2)
Here are 4 essential strategies:
1. Keep Commitments
It's important to set patient expectations and even more important to meet, or better yet, exceed those expectations.  For example, if your team commits to calling the patient back on the same day that the patient calls the practice, do it.  Even if your team does not have the answer to the question that the patient asked, have a team member go ahead and call the patient back to let the patient know that their message was received and is in process.
Patient call-backs, reporting test results, providing patient education materials, and post-procedure follow-up communications are just a few of the time-sensitive commitments that, when met, demonstrate the high level of service your patients expect.
2. Offer a Thank You or an I'm Sorry when needed
All of us want to know we are appreciated.  Offering a 'Thank You' to your patients is a small, yet powerful gesture that lets the patient know that they are appreciated and not taken for granted.  Every member of the care team should thank the patient all along the patient visit continuum.   
Similarly, when things don't go as well as you or the patient would have liked, just say, "I'm sorry".  Saying "I'm sorry" does not necessarily mean that whatever happened was your fault or the fault of one of your team members.  Saying "I'm sorry" expresses empathy when said with the right tone of voice and regretful demeanor. 
3. Training
Proper training is essential and should be considered an investment in team members and the practice. There are several different healthcare customer service training methodologies.  Here is a brief introduction to MedicalGPS' service improvement program, Endeavor for Excellence: Start Where the Patient Starts.
Endeavor for Excellence (E4E) is MedicalGPS' service improvement program designed especially for physician practices, delivered via a series of live, online webinars, sequenced over a six-week time frame. MedicalGPS' seasoned executives bring decades of experience in physician practice operations to lead multiple groups of practices through E4E's hands-on interactive, web-based training.
Following E4E's 10-step service improvement process, physician practices often see tangible results within three to four weeks after beginning the E4E program. E4E is focused on assisting practice managers with implementing E4E's 21 Best Practices, resulting in measurable improvements to both practice workflow and customer service quality levels.
Physician practices that embrace E4E Best Practices realize improvements across several M3-Patient Experience® (M3) performance metrics, including Appointment Access, Message Turn-around Times, Office Wait Times, Receptionist Courteous, Telephone Handled, Recommend to Family and Friends, and other key performance indicators.
Endeavor for Excellence, step by step training modules:
Step 1: Web-training – E4E Introduction, Timelines, and Aligning Goals & Objectives
Step 2: Establishing Your E4E Service Improvement Team
Step 3: Practice Evaluation – E4E "Before" Best Practices Assessment
Step 4: Web-training – Exceptional Customer Service: Equipping Front-line Support Staff
Step 5: Web-training – Conducting Quality Assurance Observations
Step 6: Web-training – Messaging: What, When, Why, and How to Reduce Message Turnaround Time
Step 7: Web-training – Scheduling: Protocols, Patient Flow, and Exceeding Patient Expectations
Step 8: Web-training – E4E Digging Deeper and Busting Through Roadblocks to Success
Step 9: Web-training – Sustaining Effective Implementation
Step 10: Web-training – Continuous Service Improvement, Utilizing M3-Patient Experience® 
4. Measure, Monitor, and Maximize Patient Retention and Loyalty
Peter Drucker is often credited with saying, "you can't manage what you can't measure."
So very true. Establishing a baseline and then measuring the impact of your and your team's efforts along the way is the only way to know if progress is being made.
M3-Patient Experience®, MedicalGPS' real-time patient feedback system, assists physician practice leadership by continuously monitoring, measuring, and maximizing patient retention and patient loyalty.
Physicians, administrators, and other decision-makers receive on-demand reporting, identifying outstanding performance as well as service improvement opportunities.  M3-Patient Experience equips front-line managers with timely, actionable patient feedback, allowing them to create and sustain a culture of service excellence.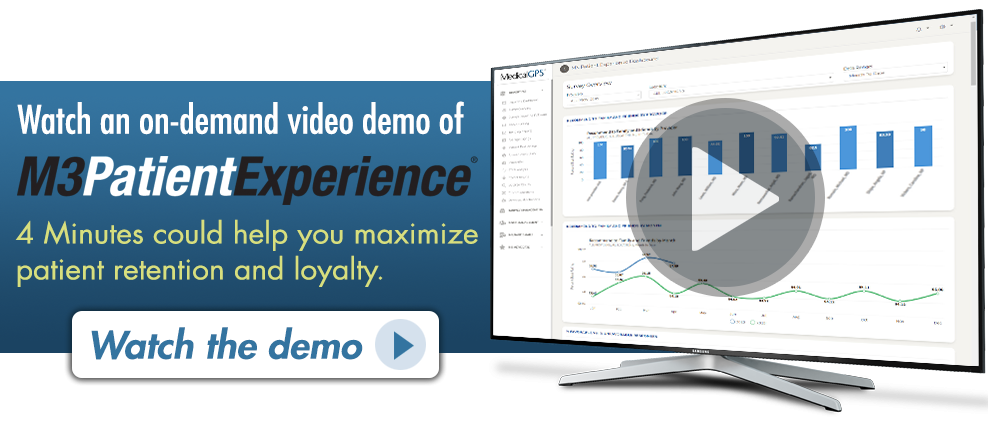 ---
Please let us know if you have comments or questions, and subscribe to our Email Updates so that you can be assured to receive Thinking Thursdays TIPs and other articles from our blog.
Thank you!
Jerry
---
RESOURCES
https://blog.medicalgps.com/download-patient-loyalty-key-touchpoints-data/
https://www.physicianspractice.com/view/10-customer-service-habits-for-your-medical-practice