Tapping into a realistic perspective of the patient experience can be a challenge, but getting patients' direct opinions has proven a useful tool for providers to gain insight.
Fortunately, metrics around the patient experience have evolved quite a bit recently and now, practice managers and healthcare leaders have multiple options from which to choose when looking for information.
Shadowing
One of the most up-close and personal ways to understand your patients' perspective is to shadow them. Anthony DiGioia, MD has developed a methodology with his team at the Patient and Family Centered Care Innovation Center of UPMC that captures the healthcare experience through the perspective of the patient.
The method involves examining the entire patient experience from arrival to discharge and then through post-operative rehab. Dr. DiGioia's work has revealed everything from patients being left in the rain for pickup to a way to minimize the need for surgical blood transfusion.
The method has also been tested by providers in other settings, including a trauma team that used iPads to keep parents and children connected after a motor vehicle accident, and another that examined the pediatric blood draws and ended up redesigning the process to cut anxiety for young patients.
Hassle and Empathy Mapping
Mapping is another powerful solution in understanding the patient experience.
Hassle mapping is based on the idea that every care experience brings with the potential for frustration, disappointment, complication, and inconvenience on the part of the patient. Hassle maps can be used to discover the challenge that patients face along their care journeys, including ER visits, and surgical procedures and can be useful tools in understanding the perspectives of patients and families.
Another form of mapping, empathy mapping, originates in design thinking and tracks patients' emotions as they move through an experience. In a healthcare setting, emotions can vary greatly, ranging from anxiety to relief, fear, anger, and surprise, all in one care episode.
Empathy maps allow users to not only track emotions, but also grade their intensity. When shadowing a patient, an observer monitors a patient's facial expressions and body language and asks about the patient's feelings during various parts of the care experience.
The information gathered from an empathy map can be used to inform the redesign of care experiences and as motivation to change negative patient experiences into more positive ones.
M3-Patient Experience®
While M3-Patient Experience® may have the appearance of a survey system, it is actually much more powerful and is extremely effective and affordable.
What sets M3 apart from surveys such as CG-CAHPS is that it is a continuous patient feedback system that runs in the background, allowing administrators and physicians to build patient loyalty, perform service recovery, reduce malpractice risks, and align their patients' expectations with experiences — one patient at a time – for all patients, not just a random sample. Additionally, much like mapping, the M3 approach allows you to track a patient's experience from beginning to end and examine elements such as parking, signage, and mobile or phone interactions, and of course, personal interactions with support staff and physicians. Real-time patient feedback is gathered immediately following the patient encounter, which allows for same-day or next-day service recovery. M3 has the benefit of immediate feedback, unlike CG-CAHPS and other traditional random sample surveys where results are delayed long after an office visit has occurred.
If evaluating your patients' experience in-house is too much of a burden on your staff and resources, know that we're seeing more startups in the healthcare reputation management and patient experience niche who are deeply involved in mining physician and hospital reviews on social media platforms. Consider both in-house and outsourced options to find your best solution in understanding the patient experience.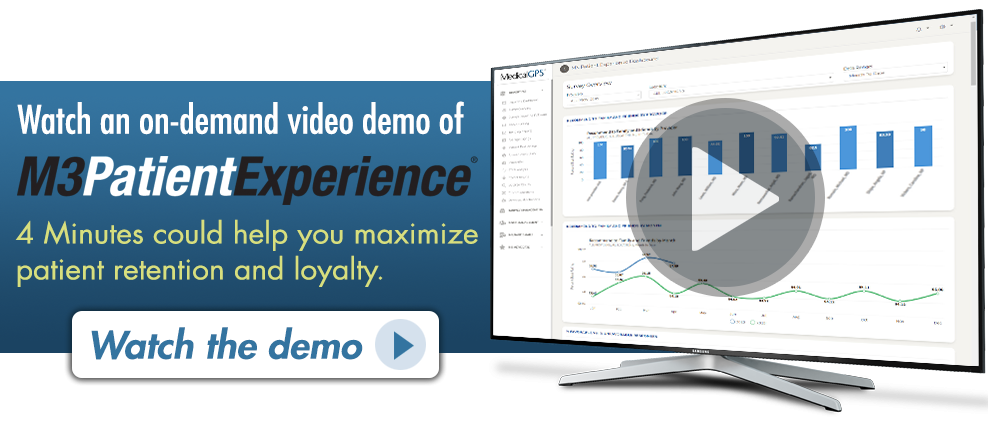 M3-Patient Experience® is a registered trademark of MedicalGPS, LLC
"CAHPS" is a registered trademark of the Agency for Healthcare Research and Quality.