Good patient experience not only has a strong correlation to clinical quality, but it is also tied to lower medical practice risks, lower staff turnover, increased patient loyalty, and better patient adherence. According to a report from Deloitte, improving patient experience can help increase financial performance through strengthening customer loyalty, boosting reputation, and growing the utilization of services. The analyses also found that hospitals with better patient-reported experience performed better financially. (2)
Focusing on patient experience is not only beneficial to patients, but it can also be good for business. As patient experience is increasingly tied to financial incentives, public and private payers have recognized it as an essential element of quality, and are basing compensation in part on patient experience survey results. As medical practices and healthcare facilities seek strategies to improve their bottom lines, considering first what is best for patients is the best strategy for business, and here is why:
Patients with positive care experiences have better health outcomes
Patients with positive care experiences are more engaged and adherent
Patient loyalty is driven and sustained by high-value patient experience
Hospitals with better patient-reported experience scores experience higher profitability
Improving patient experience can help decrease malpractice risk and staff turnover
Payers seeking improved value are financially rewarding healthcare facilities that have better patient-reported experience scores
Patient experience positively correlates to processes of care for both prevention and disease management (1, 2)
Measuring and improving patient experience are some of the strongest predictors of high performing medical practices. On-going monitoring of patient experience represents a proactive approach toward identifying and addressing issues in patient care that could potentially lead to complaints, loss of business, and lawsuits.
The M3-Patient Experience®, MedicalGPS' real- time patient feedback system is able to support medical practices in fostering patient loyalty, reducing malpractice risks, performing service recovery, and aligning patient expectations with patient experience. Unlike other services that may collect data anonymously, M3 provides real-time and near real-time immediate patient-unique alerts, which allows for specific service recovery, while maintaining HIPAA privacy regulations.
M3's service-recovery functionality equips front-line managers with timely, actionable patient feedback, allowing them to create and sustain a culture of service excellence. Physicians, front-line support staff and other decision makers receive comprehensive reporting, on-line, identifying outstanding performance and service improvement opportunities .
Real-time notifications to leadership
On-demand reporting 24/7
"FLASH" Reports and Dashboards
Benchmarks to national comparative database
Actionable information to effect positive change
The principles of MedicalGPS, LLC has been serving physician practices since 1995, operating under the guidance of the MedicalGPS motto, "If It's Good for the Patient, It's Good for the Business".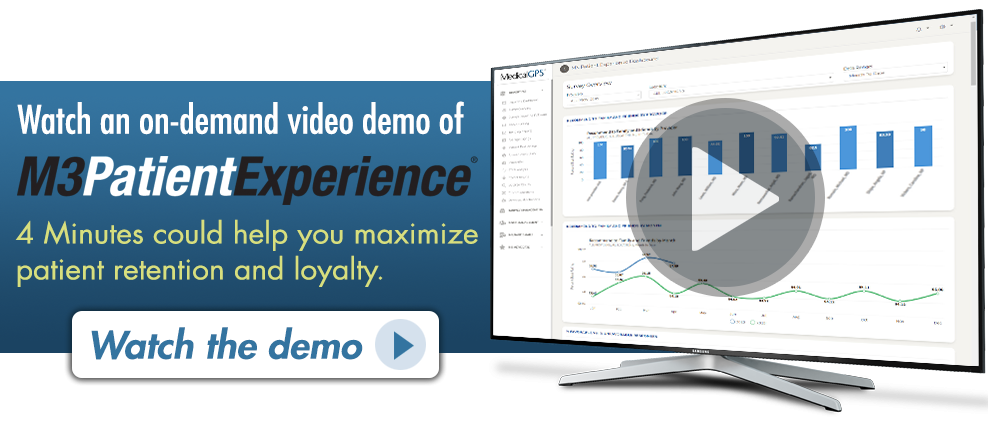 References: