A study, published in the Journal of Medical Practice Management, found that 96 percent of patient complaints are related to customer service, and not a providers' clinical skills or quality of care. Another chief complaint is tied to poor interpersonal skills from front-office staff. The bottom line is office staff can make or break a practice. Even when the provider is doing all the right things, if their office staff is rude or disrespectful, patient satisfaction decreases.
Working toward creating a culture of courtesy and respect can be an uphill battle. Here are a few strategies that may be considered:
Courtesy and Respect
Treating people with courtesy and respect should occur not only with patients, but throughout the entire practice between employees, providers, patients, referring offices, and the community. Setting the example and building a foundation of courtesy and respect begins with leadership and physicians.
Hiring

Hiring and retaining the best is not an easy feat. It is also a very common frustration for medical practices seeking skilled staff. Some TIPs to consider: Utilize the local chapter of MGMA or the county medical society by posting openings on their websites or in their newsletter. Consider contacting medical assistant programs and trade schools, or participate in extern programs to find someone exceptional through a trial basis.
Medical practices are fast-paced work environments, so it is imperative to get it right from the start by finding personalities that can work well together and keep the office running efficiently.
Training

Proper customer service training is essential and should be considered an investment in employees and the practice. There are a number of different healthcare customer service training methodologies, here are two:
AIDET®-an acronym that stands for Acknowledge, Introduce, Duration, Explanation and Thank You
A – Acknowledge the patient and family member.
I – Introduce yourself by name and role to the patient and family member.
D – Duration of care or experience within the field of care being provided.
E – Explain the care/procedure/diagnosis to the patient and family.
T – Thank the patient and family for entrusting you for their care.
CARE Model – The CARE model is designed around these three elements: trust, credibility, and rapport.
C – Courtesy (Polished manners)
Adapt communication style
Maintain relationship and rapport
Demonstrate job knowledge and proper execution
A – Attention (Prepared, open, receptive)
Have a process for every stage of the patient encounter on the phone and face‐to‐face
Set expectations
Actively seek common ground
R – Respect (To hold in high or special regard)
Use the patient's preferred name and offer your own
Keep their values, beliefs, and preferences in mind
Let them know what will happen at every stage of the encounter
E – Environment (circumstances, objects, or conditions by one is surrounded)
Maintain consistent signage
Keep waiting areas clutter free of newspapers and magazines
Keep volume down on conversations
Agree on number of personal items such as pictures for all employees
Measuring Performance

If it isn't measured, it cannot be improved upon. Most service organizations measure customer satisfaction and courtesy. In medical practice, this can be attained through CG-CAHPS surveys and via real-time patient feedback systems.
Having measurable goals and metrics will enable management to reward exceptional service and work towards making enhancements in areas that need improvement. The utilization of a real-time patient feedback system – M3-Patient Experience® can assist management with performance measurement by continuously monitoring, measuring, and assisting leadership with maximizing patient retention and patient loyalty.
M3's service-recovery functionality equips front-line managers with timely, actionable patient feedback, allowing them to create and sustain a culture of service excellence.
Physicians, front-line support staff and other decision makers receive comprehensive reporting on-line, identifying outstanding performance and service improvement opportunities.
Real-time notifications to leadership
On-demand reporting 24/7
"FLASH" Reports and Dashboards
Benchmarks to national comparative database
Actionable information to effect positive change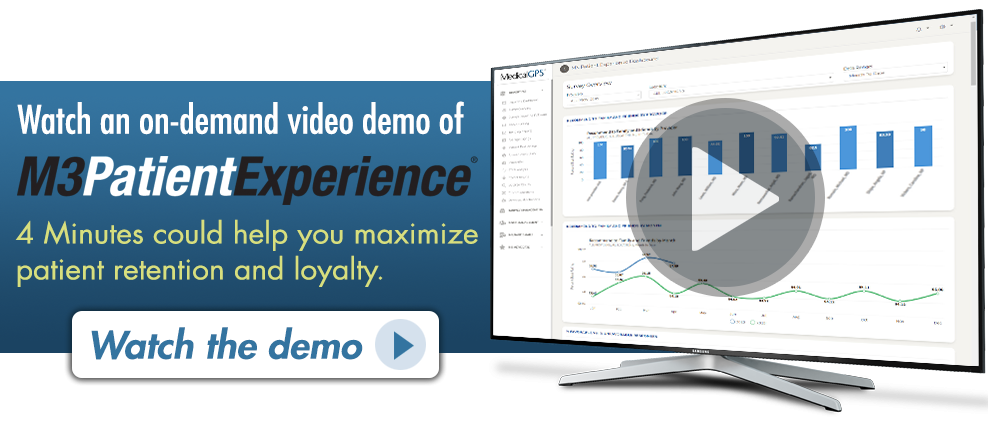 AIDET® is a registered trademark of Studer Group
M3-Patient Experience® is a registered trademark of MedicalGPS, LLC